The Arab-Swiss Chamber of Commerce and Industry welcomes a lady as its third Secretary General.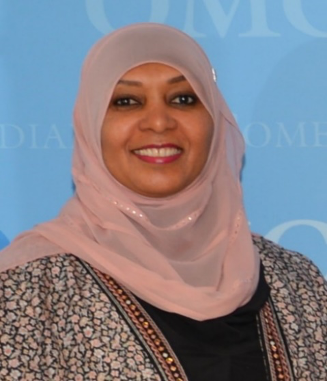 H.E. Mrs. Hilda Ali Al-Hinai, an Omani diplomat with an extensive and impressive international experience, takes up her position as Secretary General of the Swiss Arab Chamber of Commerce and Industry.
After a careful and challenging selection process, Mrs.Al-Hinai has been appointed by a unanimous vote of CASCI's Board of Directors, after a preliminary approval by the Council of the General Union of Arab Chambers of Commerce.
She is replacing H.E. Mr. Bahaa El-Attar, who retired after twelve years of service in favour of the Arab-Swiss commercial relationships.
Ms. Al-Hinai is born in Zanzibar. She is an Omani national and has lived and worked in Oman and Geneva. She is fluent in several languages including Arabic, English and Swahili.
Her impressive professional experience includes various prestigious positions, among which:
• 1998-2021: Deputy Permanent Representative of the Sultanate of Oman to the World Trade Organization in Geneva. Director of the Sultanate of Oman Office to the WTO, under the Ministry of Commerce, Industry and Investment Promotion. In addition to the relationship with the WTO, the office is also responsible for UNCTAD, WIPO and ITC issues.
• 1997-1998: Director, Industrial Development Department, under the auspices of the Ministry of Commerce and Industry, Sultanate of Oman.
• 1996-1997: Director, Industrial Inspection and Follow up Department, Ministry of Commerce and Industry, Sultanate of Oman.
Her achievements and her career have been rewarded with several decorations.
In particular, she was awarded in 2006 the Order of His Majesty the King of Bahrain as one of the "Distinguished Arab Women" during the first Arab Women's Summit organized by the Arab League in Bahrain.
A few days ago she was awarded the GCC medal at a ceremony in Riyadh, Saudi Arabia, for her achievements during her 30 years in public service.
It is a great honour and pleasure for CASCI to welcome H.E. Mrs. Hilda Ali Al-Hinai to the management of its young and dynamic team, composed today exclusively of women.
For more information, please contact:
Christel Burgisser
Events – Communication Manager
Phone: +41 78 627 3888 / Email: burgisserbuffard@casci.ch
About CASCI
The Arab-Swiss Chamber of Commerce and Industry (CASCI) was created in 1974. According to the Statutes, the Chamber is a non-profit organisation, established to promote the economic and cultural relations between Switzerland and the Arab Countries members of the League of Arab States:
Algeria, Bahrain, Comoros Islands, Djibouti, Egypt, Iraq, Jordan, Kuwait, Lebanon, Libya, Mauritania, Morocco, Oman, Palestine, Qatar, Saudi Arabia, Somalia, Sudan, Syria, Tunisia, United Arab Emirates and Yemen.
For more information : www.casci.ch